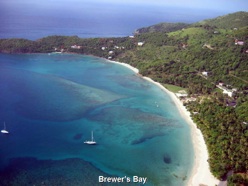 The British Virgin Islands are located at the southeastern end of the Virgin Islands archipelago that includes Puerto Rico and the United States Virgin Islands, our two closest neighbors. The British Virgin Islands is a British Territory that has a very stable government and is home to over twenty thousand people living primarily on Tortola and Virgin Gorda.
The British Virgin Islands are world renown as being one of the most beautiful island chains in the world.  Tortola is the British Virgin Islands' capital island and serves as the base of our government located in the heart of the colorful village of Road Town. Although a modest-sized village, Road Town is an international financial capital. Road Town has lovely shops and island craft stores where guests can find unique hand-made gifts as well as a variety of restaurants ranging from very affordable to expensive.
Road Town is also the marine and commercial hub of the British Virgin Islands where visitors can enjoy virtually every type of water sports activity, including world-class sailing, diving, and sport fishing and snorkeling. Daily excursions, by both sea and plane, are possible from Tortola to the nearby islands of Anegada, Cooper Island, Jost Van Dyke, Peter Island and Virgin Gorda. Private excursions leaving from Tortola also allow visitors to experience some the BVI's smaller islands and cays.
There are many places to stay on Tortola, but one of the best places on the island is Icis Villas Estates in Brewer's Bay. Located just fifteen miles from Road Town on Tortola's pristine North shore, visitors to the British Virgin Islands experience the best of Tortola when they stay at Icis Villas. Affordable, hospitable and most of all very comfortable, Icis Villas offers a relaxing holiday experience at affordable rates. In the last ten years, we have hosted hundreds of people from around the world in our special hotel. We look forward to welcoming you.
We hope you will visit the British Virgin Islands, our country and our home. We also hope that you will stay with us to make your special visit to Tortola a very pleasant experience. So make your way to Brewer's Bay and discover the magic of Icis Villas.
Icis Villas and Estates in Palm's Valley
Brewer's Bay, Tortola, British Virgin Islands
Tel 284-494-6979    Fax: 284 494-6980